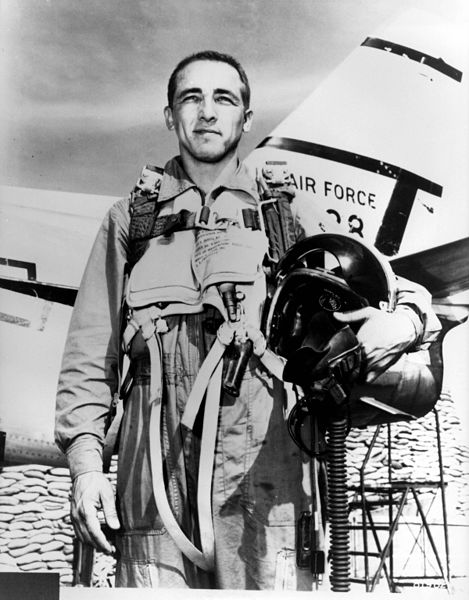 James Robinson "Robbie" Risner (1925 – 2013) enlisted in the United States Army Air Forces as an aviation cadet in April, 1943, and attended flight training at Williams Field, Arizona, where he was awarded his pilot wings and a commission as 2nd Lieutenant in May 1944. He completed transition training in P-40 Warhawk and P-39 Airacobra fighters before being assigned to the 30th Fighter Squadron in Panama. In 1946, Risner was involved in an off-duty motorcycle accident. While undergoing hospital treatment in the Army, he met his first wife Kathleen Shaw, a nurse from Ware Shoals, South Carolina. Risner and Shaw became engaged on a ship and were discharged and married the next month.
Risner was recalled to active duty in February 1951 and received training in the F-80 Shooting Star. Risner arrived in Korea on May 10, 1952, assigned to the 15th Reconnaissance Squadron at Kimpo Air Base. In June, when the 336th Fighter-Interceptor Squadron, also at Kimpo, sought experienced pilots, he arranged a transfer to 4th Fighter Wing. Risner was often assigned to fly F-86E-10, AF serial no. 51-2824, nicknamed Ohio Mike and bearing a large cartoon rendition of Bugs Bunny as nose art, in which he achieved most of his aerial victories.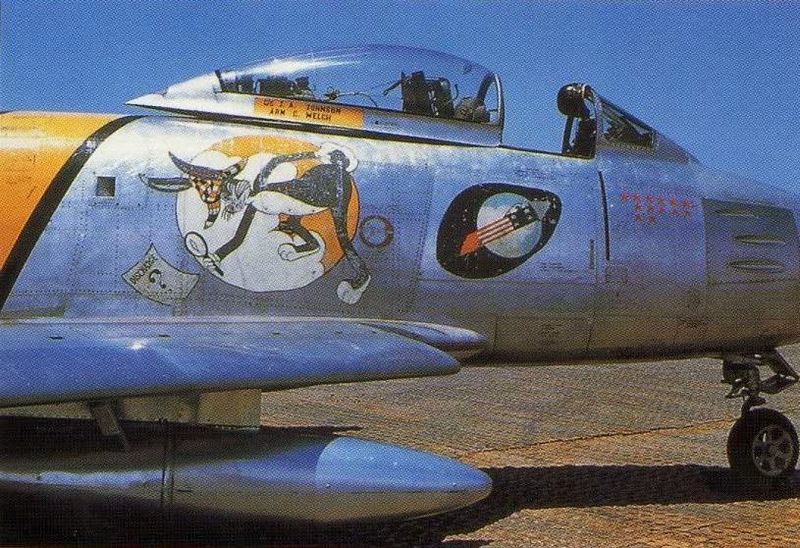 On September 15, 1952, Risner's flight escorted F-84 Thunderjet fighter-bombers attacking a chemical plant on the Yalu River near the East China Sea. Risner's call sign this date was "John Red Lead". Fighting one MiG at nearly supersonic speeds at ground level, Risner pursued it down a dry riverbed and across low hills to an airfield 35 miles inside China. The MiG pilot must have radioed ahead, however, because the field's anti-aircraft guns were manned and firing. Risner waited for his moment and hammered him with the last of his 50 CAL rounds. Scoring numerous hits on the MiG, shooting off its canopy, and setting it on fire, Risner chased it between hangars of the Communist airbase, where he shot it down into parked fighters. Another flight member, 1st Lt. Willard P. Dunbar, reported that the MiG pilot was a red-headed Russian who shook his fist at Risner before crashing.
On the return flight, Risner's wingman, 1st Lt. Joseph Logan, was struck in his fuel tanks by anti-aircraft fire over Antung. In an effort to help him reach Kimpo, Risner attempted to push Logan's aircraft by having him shut down his engine and inserting the nose of his own jet into the tailpipe of Logan's, an unprecedented and untried maneuver. The object of the maneuver was to push Logan's aircraft to the island of Cho Do off the North Korean coast, where the Air Force maintained a helicopter rescue detachment. Jet fuel and hydraulic fluid spewed out from the damaged Sabre onto Risner's canopy, obscuring his vision, and turbulence kept separating the two jets. Risner was able to re-establish contact and guide the powerless plane out over the sea until fluids threatened to stall his own engine. Near Cho Do, Logan bailed out after calling to Risner, "I'll see you at the base tonight." Although Logan came down close to shore and was a strong swimmer, he became entangled in his parachute shrouds and drowned. Risner shut down his own engine in an attempt to save fuel, but eventually his engine flamed out and he glided to a deadstick landing at Kimpo.
References
– Sabres Over MiG Alley: The F-86 and the Battle for Air Superiority in Korea. Naval Institute Press
– MiG Alley" Air to Air Combat Over Korea, Squadron/Signal Publications
– F-86 Sabre Aces of the 4th Fighter Wing, Osprey Publishing