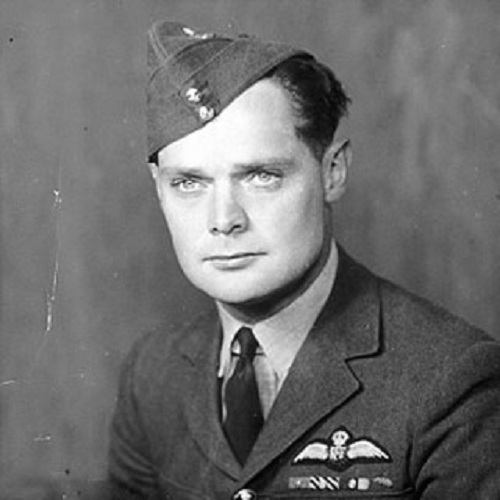 Douglas Bader was a pilot in the Royal Air Force who would go on to pilot fighter planes in the Second World War without his legs and claimed 22 aerial victories becoming a flying ace. Bader joined the RAF in 1928 and graduated in 1930 and in late 1931 at age 21 he was assigned to a squadron flying Bristol Bulldogs at Woodley airfield near Reading. While flying the Bulldog he went against orders not to do aerial acrobatics or fly below 2,000 feet. Nevertheless, Bader performed an aerial stunt to show off his skill, resulting in his plane crashing. Both of his legs were crushed under the twisted wood canvas and metal. With no way of saving them, they had to be amputated. One above the knee and one below.
After this Bader had to learn to walk again using artificial legs. Doctors were not hopeful that he would be able to walk without a stick, but Bader was determined and he wanted to fly again. After being transferred to RAF Hospital Uxbridge, Bader learned new skills with his new legs. He learned to drive a racing car, play golf, tennis and dance. During this time he also met his future wife Thelma.
From 1937 to 1939 with World War II on horizon Bader requested several times to rejoin the RAF but was refused piloting roles on the grounds that there was no incorporating his disability. Air Vice Marshal Halahan recommended that Bader do the Central Flying School to test his abilities, which he passed. This would also familiarize him with the newer modern planes. Bader noticed how the planes an upgraded significantly. Gone were the biplanes, replaced with new low-wing monoplanes such as the Hurricane and the Spitfire. While in his Avro Tutor during the training, Bader couldn't resist doing a stunt, turning his biplane upside down at 600 feet.
By 1940 Bader would be posted to the No. 19 Squadron and put in a cockpit of a Spitfire, undertaking convoy patrol missions. During this time, known as the Phoney war, he wouldn't see much action but soon he would be posted to No. 222 Squadron where he would see action over Dunkirk, during the Battle of France, protecting the Royal Navy and evacuating the British Army below from the Luftwaffe. During this combat, he took down a Messerschmitt Bf 109 and damaged a Heinkel He 111 bomber.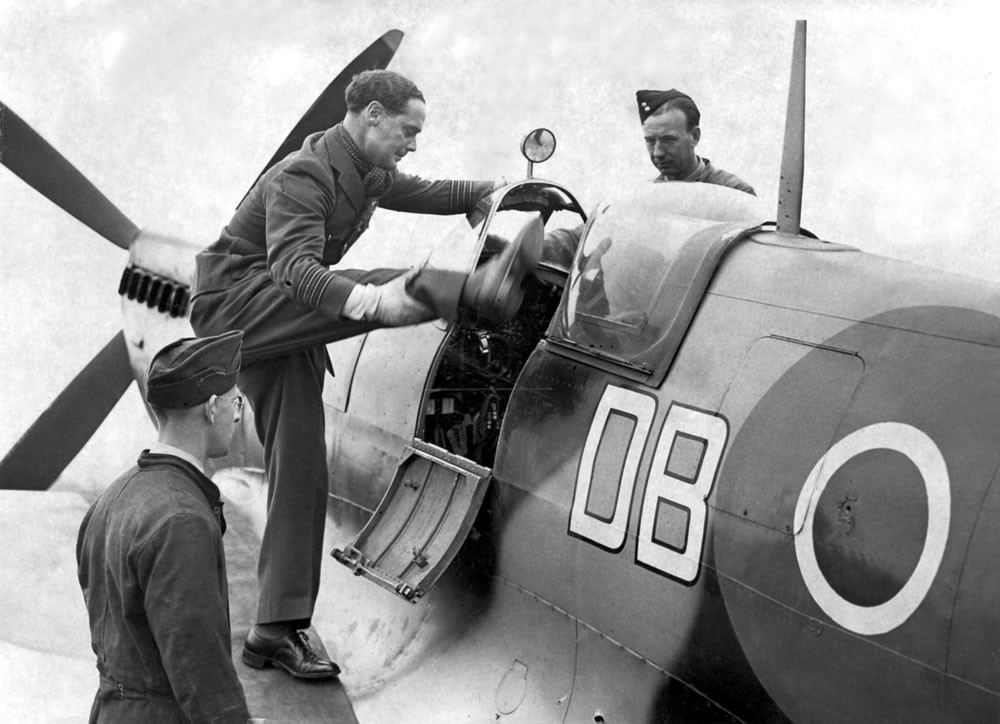 Bader noticed that his disability gave him a distinct advantage when piloting his plane during dogfights. Because he didn't have legs he was less likely to blackout from the effects of g-force. Usually this would cause blood to flow from the brain to other parts of the body, such as the legs, causing loss of consciousness. This meant that BAder could pull off tight turns and outmaneuver his opponents. After Dunkirk, Bader was transferred to No. 242 Squadron and promoted to Squadron leader. This squadron, which was made up of Canadians, was low on morale due to heavy casualties during the Battle of France. At first they were not welcoming to their new leader and were puzzled by his disability, but he would soon rebuild the squadrons morale and inspire them with his courage and skill. They would fight in the Battle of Britain and see major action on the 30th of August 1940, when the squadron took down 12 enemy planes, two of which were shot down by Bader. By the end of 1940, No. 242 Squadron had shot down 67 enemy aircraft, with five pilots killed in action.
Barter would leave the squadron at March 1941. He was promoted to Wing Commander and leader escorting bombers during daylight raids in a Spitfire Mk 5A. Taking on enemy Bf 109s with his squadron, sometimes at dangerously low heights, his score would rise to 20 confirmed as destroyed plus two shared. On August 8th Bader noticed a formation of 12 enemy fighters and dived on them, taking out one and possibly colliding with another BF 109 or shot down by it sending his Spitfire diving into the ground in flames. While trying to bail out one of Baders artificial legs became stuck. However he was able to escape from the cockpit just in time.
When he landed, he was captured by the Germans and taken to a hospital in St Omer as a prisoner of war. The Germans had great respect for Bader because of his courage to fly without legs. Flying ace Adolf Galland, asked the British to airdrop Bader a replacement leg, which they did. Shortly afterwards, Bader tried to escape the hospital using a rope made from bed sheets so that he could climb down from the window. He was eventually caught however, after being betrayed. Bader was now on a Luftwaffe-run prisoner of war camp known as Stalag Luft III. He had made so many escape attempts that the Germans guarding the camp threatened to take away his artificial legs. In 1942, while in Stalag Luft VIIIb, Bader and several others tried to escape, but the alarm was raised when a Luftwaffe officer came to visit Bader and he was not there. Soon he was recaptured. He was then transferred to the escape-proof Colditz castle on the 18th of august 1942, where he would spend the rest of the war and on April 15th 1945 the prison was liberated and barter was freed by American troops.