On November 14, 1965 Captains Fred Lester Austin, Jr., and Harrison Finch, two retired airline pilots, took off from Honolulu on a 26,230-mile (42,213 kilometer), 57 hour, 27 minute flight around the world—from Pole to Pole!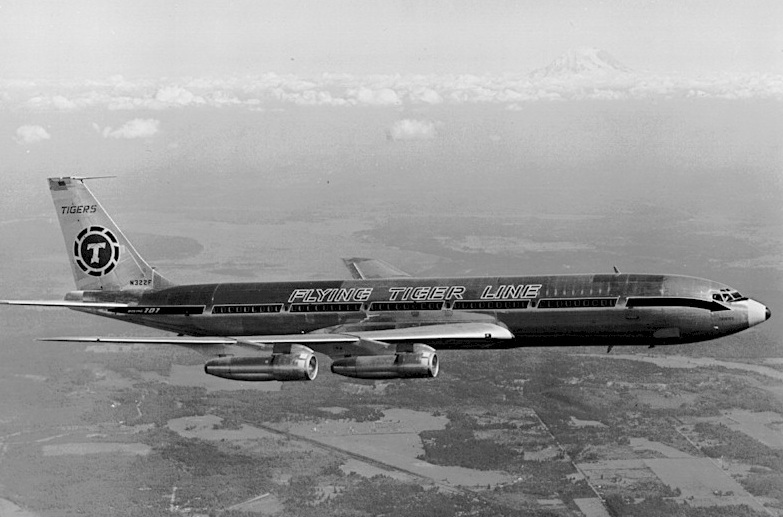 They leased a Boeing 707-349C, c/n 18975, registered N322F, from Flying Tiger Line. Nicknamed Pole Cat, the airplane was crewed by a total of five pilots, all rated captains, three navigators and three flight engineers. In addition to Austin and Finch, there were Captain Jack Martin, Chief Pilot of Flying Tigers Line, Captain Robert N. Buck, TWA, and Boeing Senior Engineering Test Pilot James R. Gannett. John Larsen, TWA's chief navigator, did most of the planning and the other two navigators and all three flight engineers were Flying Tiger Line employees.
Most of the cost of the flight was paid for by Colonel Willard F. Rockwell, Sr. He is the founder of the Rockwell Corporation and one of 27 passengers aboard the Pole Cat. The airliner was equipped with an experimental Litton Systems Inertial Navigation System (INS) and the very latest Single Side Band (SSB) communications equipment.
Flying Tiger Line's Boeing 707-349C (an airline-specific variant of the 707-320C) was a "combi" version that could be configured to carry passengers and/or cargo. The –320 series was a stretched version of the 707-120 airliner, with longer and redesigned wings and tail plane, as well as a taller vertical fin. It was operated by a flight crew of four on international flights.
Auxiliary fuel cells were put abroad to provide extra long range flying capability. They were installed in the Pole Cat's main cabin.


The flight departed Honolulu and flew north to the North Pole, from there south to London Heathrow, where they stopped for fuel. Due to runway takeoff weight restrictions they had to make an extra fuel stop at Lisbon, Portugal before flying to Buenos Aires, Argentina. After a fuel stop at Buenos Aires, Pole Cat continued south, circled the South Pole four times and then headed north to Christchurch, New Zealand. From there, they returned to Honolulu.
In addition to being the first globe-circling flight via the poles, the Rockwell Polar Flight was the first non-stop flight over the South pole from one continent to another.
Total elapsed time for the flight was 62 hours, 27 minutes, 35 seconds with just under 5 hours on the ground.
References:
Flying Magazine Jun 1966