Alaska Airlines has just turned your ordinary flight into a magical journey with the arrival of "Mickey's Toontown Express." This Boeing 737-800, tail number 565AS, isn't just an aircraft; it's a flying celebration of all things Mickey Mouse and friends.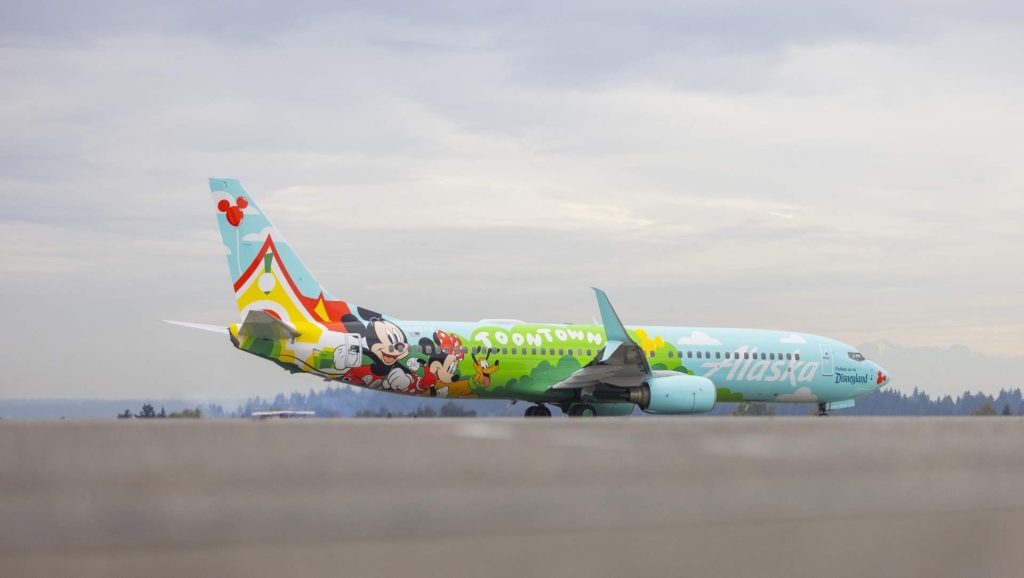 In a ceremony that probably included a red carpet for Mickey, this whimsically painted plane was unveiled in Seattle. Dubbed "Mickey's Toontown Express," it's now embarking on a journey to Orange County, Calif., transporting unsuspecting passengers to the enchanting world of Disneyland Resort in Anaheim.
This isn't Alaska Airlines' first rodeo with Disney-themed planes, but "Mickey's Toontown Express" takes the cake. Or, in this case, the plane. The artists went full Picasso on this one, spending over 400 hours hand-painting Mickey, Minnie, Goofy, Pluto, Donald Duck, and Daisy Duck on the exterior. And just when you thought it couldn't get better, Chip 'n' Dale decided to join the party on the boarding doors and winglets. Because why not?
To make the inaugural flight even more magical, Alaska Airlines teamed up with Disney to send families and special guests on this once-in-a-lifetime journey. Priority boarding for families with tiny humans, free family seating, and a Kids' Choice Picnic Pack? Talk about in-flight entertainment that beats any movie marathon.
But it's not just about the exterior wizardry. Inside, passengers will be treated to activity books and snack packs featuring Mickey Mouse and friends, making you wonder if this is a flight or a theme park on wings.
Inspired by Mickey's Toontown in Disneyland Park, where families can explore, play, and unwind together, this aircraft is more than just a mode of transportation. It's a flying portal to the happiest place on earth, minus the long lines and screaming kids (we hope).
So, buckle up, folks! Get ready to soar through the skies in the one of the most magical Boeing 737-800 liveries ever created. "Mickey's Toontown Express" is here to make flying as joyful as a trip to Disneyland. And who knows, maybe the in-flight snacks come with a sprinkle of pixie dust.