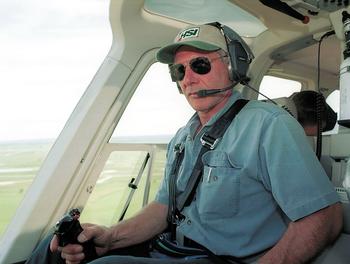 Sarah George, 20, and Megan Freeman, 22, were on a five-hour climb of 11,106-foot Table Mountain on July 31, 2000 when heat, altitude and dehydration left George sick and unable to take more than a couple steps. After another hiker called for help on a cell phone, Air Force One star Harrison Ford took to the air. He used his Bell 407 helicopter.
As Ford was en route, two other hikers helped Freeman move George more than two miles from the Table Mountain summit to a meadow, where Ford landed his chopper. With the help of an on-board medic, a surprised George was loaded and lifted out. Freeman was told there wasn't enough room and had to hike down.
"He was wearing a T-shirt and a cowboy hat," said George. "He didn't look like I'd ever seen him before."
Ford offers his flying skills and helicopter for rescue missions, Teton County Sheriff Bob Zimmer said. It saves the $1,000 an hour it would cost to hire a private pilot.
Just before landing at Jackson's St. John's Hospital, George vomited into the cap of an EMT worker.
"I can't believe I barfed in Harrison Ford's helicopter," she said.